Chiral Nanophotonics: Theory and Simulation
Chiral objects are not superimposable on their mirror image. This feature is ubiquituous in nature and for example chiral molecules posses the ability to affect the polarization of light - they are optically active. By tailoring complex structures on the nanoscale this effect can be mimicked in man-made metamaterials. In order to design such sophisticated devices, rigorous numerical simulation and modelling are required.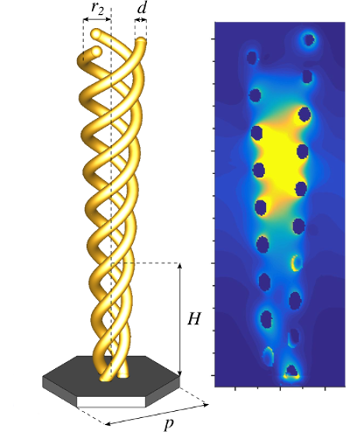 In this project, we analyze both theoretically and numerically the interaction of light and chiral matter. Electromagnetic fields are described with the recently introduced optical chirality density and accessible observables of e.g. extinction experiments are derived. Applications of these studies range from plasmonic sensing of chiral analytes to shaping the polarization properties of emitters employed in quantum communications.
Publications
2020
2019
2018
2017
2016
2015
2014
2020

Philipp Gutsche, Xavier Garcia Santiago, Philipp-Immanuel Schneider, Kevin McPeak, Manuel Nieto-Vesperinas, Sven Burger
Role of Geometric Shape in Chiral Optics
Symmetry, Vol.12, p. 158, 2020
BibTeX
DOI
arXiv


2019

Jon Wilson, Philipp Gutsche, Sven Herrmann, Sven Burger, Kevin McPeak
Correlation of circular differential optical absorption with geometric chirality in plasmonic meta-atoms
Opt. Express, Vol.27, p. 5097, 2019
BibTeX
DOI

Pawel Mrowinski, Peter Schnauber, Philipp Gutsche, Arsenty Kaganskiy, Johannes Schall, Sven Burger, Sven Rodt, Stephan Reitzenstein
Directional emission of a deterministically fabricated quantum dot – Bragg reflection multi-mode waveguide system
ACS Photonics, Vol.6, p. 2231, 2019
BibTeX
DOI
arXiv


2018

Niels Gregersen, Jakob Rosenkrantz de Lasson, Lars Hagedorn Frandsen, Philipp Gutsche, Sven Burger, Oleksiy S. Kim, Olav Breinbjerg, Aliaksandra Ivinskaya, Fengwen Wang, Ole Sigmund, Teppo Häyrynen, Andrei V. Lavrinenko
Benchmarking state-of-the-art numerical simulation techniques for analyzing large photonic crystal membrane line defect cavities
Proc. SPIE, Vol.10672, p. 106721C, 2018
BibTeX
DOI

Philipp Gutsche, Philipp-Immanuel Schneider, Sven Burger, Manuel Nieto-Vesperinas
Chiral scatterers designed by Bayesian optimization
J. Phys.: Conf. Ser., Vol.963, p. 012004, 2018
BibTeX
DOI
arXiv

Philipp-Immanuel Schneider, Xavier Garcia Santiago, Felix Binkowski, Philipp Gutsche, Theresa Höhne, Martin Hammerschmidt, Lin Zschiedrich, Sven Burger
Light Management for Engineering Luminescence in Nanoscale Environments By Numerical Optimization
The Electrochemical Society, Meeting Abstracts, p. 1164, Vol.16, 2018
BibTeX

Philipp Gutsche, Manuel Nieto-Vesperinas
Optical Chirality of Time-Harmonic Wavefields for Classification of Scatterers
Sci. Rep., Vol.8, p. 9416, 2018
BibTeX
DOI
arXiv


2017

Niels Gregersen, Jakob Rosenkrantz de Lasson, Lars Hagedorn Frandsen, Teppo Häyrynen, Andrei Lavrinenko, Jesper Moerk, Fengwen Wang, Ole Sigmund, Oleksiy S. Kim, Olav Breinbjerg, Aliaksandra Ivinskaya, Philipp Gutsche, Sven Burger
Benchmarking five computational methods for analyzing large photonic crystal membrane cavities
Numerical Simulation of Optoelectronic Devices (NUSOD), p. 89, IEEE, 2017
BibTeX
DOI

Philipp Gutsche, Manuel Nieto-Vesperinas, Raquel Mäusle, Sven Burger
Chiral Nanophotonics: Theory and Simulation
Doctoral Summer School on Nanophotonics and Metamaterials, ITMO University, 2017
BibTeX

Andrey Novitsky, Jakob Rosenkrantz de Lasson, Lars Hagedorn Frandsen, Philipp Gutsche, Sven Burger, Oleksiy S. Kim, Olav Breinbjerg, Aliaksandra Ivinskaya, Fengwen Wang, Ole Sigmund, Teppo Häyrynen, Andrei Lavrinenko, Jesper Mørk, Niels Gregersen
Comparison of five computational methods for computing Q factors in photonic crystal membrane cavities
19th International Conference on Transparent Optical Networks (ICTON), 2017
BibTeX
DOI

Philipp Gutsche, Sven Burger, Manuel Nieto-Vesperinas
Fundamentals and Applications of an Optical Theorem for Chiral Optical Fields
4th International Conference on Optical Angular Momentum, 2017
BibTeX


2016

Philipp Gutsche, Raquel Mäusle, Sven Burger
Circular polarization phenomena in chiral nano-optical devices
Light, Energy and the Environment 2016, p. JW4A.4, OSA Technical Digest, 2016
BibTeX
DOI

Aimi Abass, Philipp Gutsche, Bjorn Maes, Carsten Rockstuhl, Emiliano R Martins
Insights into directional scattering: from coupled dipoles to asymmetric dimer nanoantennas
Opt. Express, 24(17), pp. 19638-19650, 2016
BibTeX
DOI

Philipp Gutsche, Raquel Mäusle, Sven Burger
Locally Enhanced and Tunable Optical Chirality in Helical Metamaterials
Photonics, Vol.3, p. 60, 2016
BibTeX
DOI
arXiv

Philipp Gutsche, Lisa V. Poulikakos, Sven Burger, Martin Hammerschmidt, Frank Schmidt
Optical chirality: conservation law in arbitrary space
606. WE-Heraeus-Seminar on Nanophotonics and Complex Spatial Modes of Light, 2016
BibTeX

Philipp Gutsche, Raquel Mäusle, Sven Burger
Tailoring local optical chirality in helical metamaterials
2016 10th International Congress on Advanced Electromagnetic Materials in Microwaves and Optics, pp. 73-75, IEEE, 2016
BibTeX
DOI

Jon C. Wilson, Sven Herrmann, Philipp Gutsche, Sven Burger, Kevin M. McPeak
The Chiral Coefficient: Rapid Optimization of Broadband Plasmonic Chirality
2016 MRS Fall Meeting & Exhibit, 2016
BibTeX

Lisa Poulikakos, Philipp Gutsche, Kevin McPeak, Sven Burger, Jens Niegemann, Christian Hafner, David Norris
The Optical Chirality Flux as a Useful Far-Field Probe of Chiral Near Fields
ACS Photonics, Vol.3, p. 1619, 2016
BibTeX
arXiv
DOI

Philipp Gutsche, Lisa V. Poulikakos, Martin Hammerschmidt, Sven Burger, Frank Schmidt
Time-harmonic optical chirality in inhomogeneous space
Proc. SPIE, Vol.9756, p. 97560X, 2016
BibTeX
DOI
arXiv


2015

Lisa V. Poulikakos, Philipp Gutsche, Kevin M. McPeak, Sven Burger, Jens Niegemann, Christian Hafner, David J. Norris
A Far-Field Interpretation of Optical Chirality in Analogy to Poynting's Theorem
META '15 Proceedings, pp. 1215-1216, 2015
BibTeX

Lisa V. Poulikakos, Philipp Gutsche, Kevin M. McPeak, Sven Burger, Jens Niegemann, Christian Hafner, David J. Norris
A Far-Field Interpretation of the Optical Chirality
Frontiers in Nanophotonics (Congressi Stefano Franscini), 2015
BibTeX


2014

Philipp Gutsche
Convergence Study of the Fourier Modal Method for Nano-optical Scattering Problems in Comparison with the Finite Element Method
Master's thesis, Eberhard Karls Universität Tübingen, Thomas Judd, Frank Schmidt (Advisors), 2014
PDF
BibTeX
URN