DESI - Pervasively Energy-Efficient ICT Production
Goal of the DESI project is to optimize the energy consumption of ICT production, considering both the domains of "ICT" and "Energy" in a unifying way. The operation of ICT components over the whole supply chain, up to customer networks, has to be taken into account and controlled with respect to varying traffic. This leads to new requirements for the power supply of widespread telecommunication networks.
Taking a unifying view on energy and ICT network makes it necessary to consider complex relationships between various restrictions on different systems. We use state-of-the-art methods of mathematical optimization to deal with this challenge. This includes a model-based description of network topologies and structures, the study of the net-wide influences of components under varying load, as well as the design and implementation of algorithms for the energy-efficient control of ICT production.
Questions from both domains Telecommunication networks and Energy supply have been studied at ZIB.
Load-adaptive telecommunication networks

Traffic demands in telecommunication networks heavily fluctuate in daily and weekly cycles.

(Source: European research network GEANT)
Modern load-adaptive networks can take advantage of these fluctuations by switching off parts of the network at times of low traffic and thereby saving energy. Various network configurations are visualized below: at peak traffic hours (center) and at low traffic hours (right) in comparison to a load-independent network (left).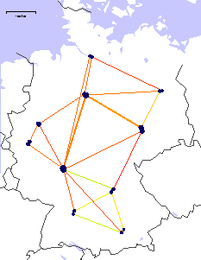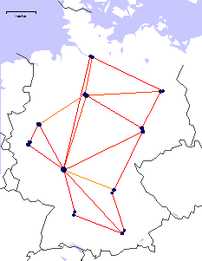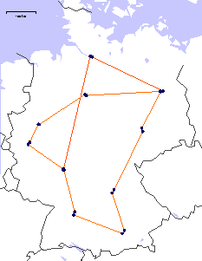 The problem of finding energy-optimal network configurations is solved using mixed integer programs.
In practice, frequent reconfiguration of the whole network is not desirable. Therefore, another challenge is to find few (e.g. 3) scenarios over a certain time (e.g. one day) such that the overall energy-consumption is as low as possible. Solution approaches for this problem make use of the above models for the optimization of network configurations.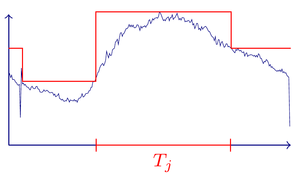 Optimal battery control

Batteries that are available at locations within the network of our project partner Deutsche Telekom can be used to store energy at suitable times. At a later time, the network components can then be supplied with power independently of the power grid.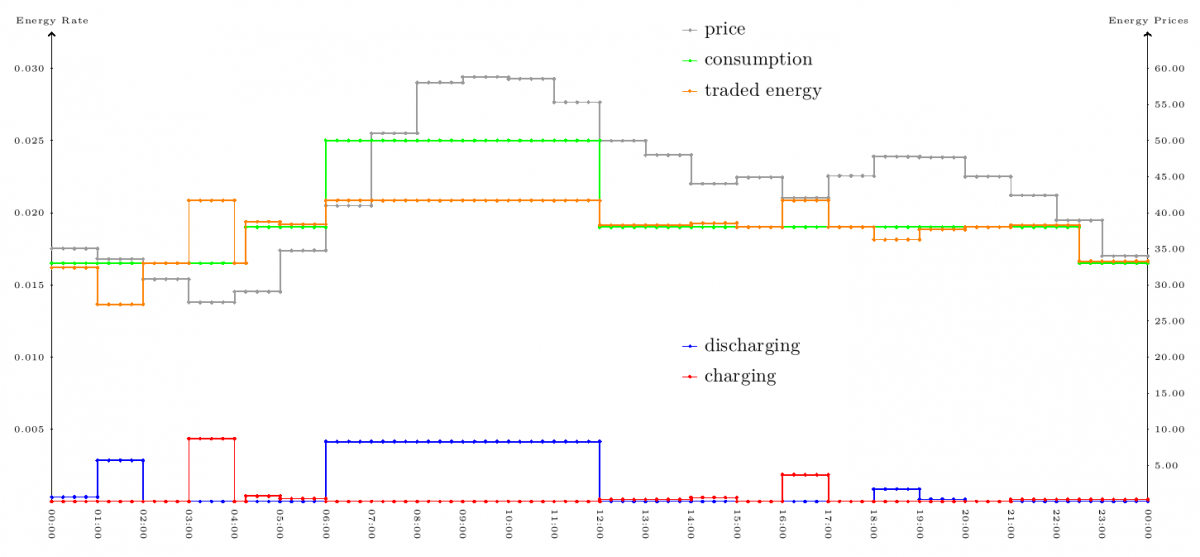 The mathematical models are non-linear due to the physical properties of batteries. To solve these models we use SCIP, implementing various approaches.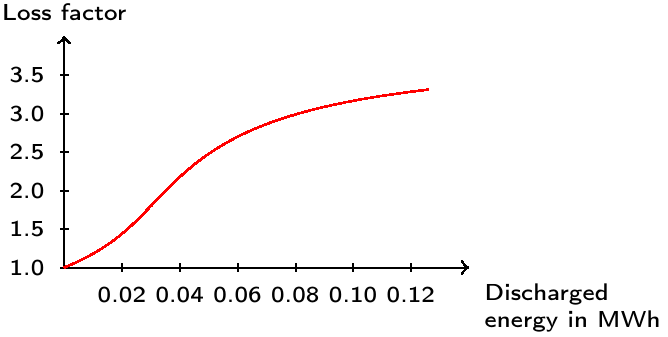 By default, battery control is optimized with respect to dynamic energy prices; however, using other information is conceivable, such as availability or sustainability of energy production. This opens the chance to reduce fluctuations in the power grid and increase its stability, a feature that will become more and more important with the extended use of alternative and more volatile forms of energy.
Publications
2015
2014
2012
2015

Andreas Draegert, Andreas Eisenblätter, Inken Gamrath, Axel Werner
Optimal battery control for smart grid nodes
Optimization in the Real World - Towards Solving Real-World Optimization Problems, Katsuki Fujisawa, Yuji Shinano, Hayato Waki (Eds.), pp. 97-113, Vol.13, Mathematics for Industry, 2015 (preprint available as ZIB-Report 15-06)
PDF (ZIB-Report)
BibTeX
DOI


2014

Andreas Betker, Inken Gamrath, Dirk Kosiankowski, Christoph Lange, Heiko Lehmann, Frank Pfeuffer, Felix Simon, Axel Werner
Comprehensive Topology and Traffic Model of a Nationwide Telecommunication Network
Journal of Optical Communications and Networking, 6(11), pp. 1038-1047, 2014 (preprint available as ZIB-Report 14-36)
PDF (ZIB-Report)
BibTeX
DOI

Michael Schlosser, Axel Werner, Ralph Schlenk, Tobias Jungel, Christoph Lange
Demonstrating energy-efficiency improvements in load-adaptive dynamic multilayer optical networks
Tagungsband Photonische Netze, pp. 42-46, Vol.248, ITG-Fachbericht, 2014
BibTeX

Andreas Betker, Dirk Kosiankowski, Christoph Lange, Frank Pfeuffer, Christian Raack, Axel Werner
Energy efficiency in extensive IP-over-WDM networks with protection
Operations Research Proceedings 2012, pp. 93-99, 2014
BibTeX
DOI

Axel Werner, Frank Aurzada, Andreas Bley, Andreas Eisenblätter, Hans-Florian Geerdes, Mijail Guillemard, Gitta Kutyniok, Friedrich Philipp, Christian Raack, Michael Scheutzow
Mathematics for telecommunications
MATHEON - Mathematics for Key Technologies, Vol.1, pp. 75-89, Peter Deuflhard, Martin Grötschel, Dietmar Hömberg, Ulrich Horst, Jürg Kramer, Volker Mehrmann, Konrad Polthier, Frank Schmidt, Christof Schütte, Martin Skutella, Jürgen Sprekels (Eds.), European Mathematical Society, EMS Series in Industrial and Applied Mathematics, 2014
BibTeX
DOI


2012

Andreas Betker, Dirk Kosiankowski, Christoph Lange, Frank Pfeuffer, Christian Raack, Axel Werner
Energy efficiency in extensive multilayer core and regional networks with protection
ZIB-Report 12-45
PDF
PDF
BibTeX
URN