Plasmonic Concepts for Solar Fuel Generation
Articial Photosynthesis provides a way to produce high-value chemical fuels directly from sunlight thus storing the sun's power in chemical bonds. The key idea is to mimic photosynthesis processes found in nature in "artifcial leaves". The goal is to build stand-alone devices capable of converting solar irradiation into usable chemical fuels. Several examples and techniques have been proposed. The most promising approaches are water splitting devices producing hydrogen and oxygen, and CO2 reduction to produce carbon-based fuels.
Modelling and optimizing a water splitting device is a challenging tasks as processes such as absorption and catalytic conversion have to be optimized individually and the combined system must operate at maximum effiency to make the approach viable in todays energy markets. In water splitting devices the absorber material must not only provide sufficient light absorption of the sunlight, but simultaneously act as a catalyst for the hydrogen (or oxygen) evolution reaction. The high redox potential of 1.23 V required to drive this reaction either demands complex solar cell concepts such as multi-junctions to provide enough voltage or the development of new metal oxide semiconductors. Their advantages such as earth abundance, high voltages and catalytic properties usually comes at the expense of electric and optical properties. Similar to silicon based solar cells they show imperfect light absorption. Plasmonic effects can not only enhance optical absorption by increased light scattering, but also localize electromagnetic near fields to drive surface reactions.
Plasmonics and finite element simulations. We investigate plasmonic devices and effects using finite element simulations. New promising concepts for water-to-hydrogen conversion are based on plasmonic resonances of 3D nanoparticle arrangements on catalytic surfaces. The research includes utilization of metamaterial resonances for tailored, enhanced electromagnetic near fields, allowing for increased plasmon-induced dissociation of hydrogen on noble metals.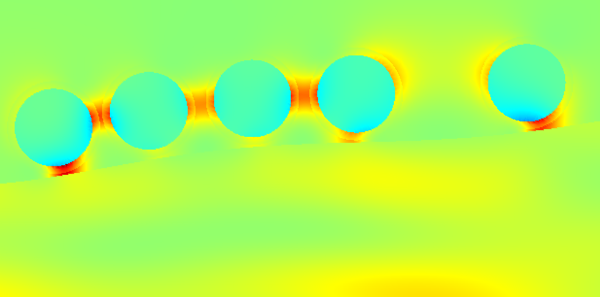 This research is carried out in the framework of MATHEON supported by Einstein Foundation Berlin.
Publications
2020
2018
2017
2016
2015
2014
2020

Martin Hammerschmidt, Sandra Döpking, Sven Burger, Sebastian Matera
Field Heterogeneities and Their Impact on Photocatalysis: Combining Optical and Kinetic Monte Carlo Simulations on the Nanoscale
J. Phys. Chem. C, Vol.124, p. 3177, 2020 (preprint available as ZIB-Report 17-20)
PDF (ZIB-Report)
BibTeX
DOI


2018

Duote Chen, Phillip Manley, Philipp Tockhorn, David Eisenhauer, Grit Köppel, Martin Hammerschmidt, Sven Burger, Steve Albrecht, Christiane Becker, Klaus Jäger
Nanophotonic Light Management for Perovskite-Silicon Tandem Solar Cells
J. Photonics Energy, Vol.8, p. 022601, 2018
BibTeX
DOI
arXiv

Klaus Jäger, Grit Köppel, Martin Hammerschmidt, Sven Burger, Christiane Becker
On accurate simulations of thin-film solar cells with a thick glass superstrate
Opt. Express, Vol.26, p. A99, 2018
BibTeX
DOI


2017

Philipp Gutsche, Manuel Nieto-Vesperinas, Raquel Mäusle, Sven Burger
Chiral Nanophotonics: Theory and Simulation
Doctoral Summer School on Nanophotonics and Metamaterials, ITMO University, 2017
BibTeX


2016

Philipp Gutsche, Raquel Mäusle, Sven Burger
Circular polarization phenomena in chiral nano-optical devices
Light, Energy and the Environment 2016, p. JW4A.4, OSA Technical Digest, 2016
BibTeX
DOI

Victor Soltwisch, Anton Haase, Jan Wernecke, Jürgen Probst, Max Schoengen, Sven Burger, Michael Krumrey, Frank Scholze
Correlated diffuse x-ray scattering from periodically nanostructured surfaces
Phys. Rev. B, Vol.94, p. 035419, 2016
BibTeX
DOI
arXiv

Antti Lassila, Maksim Shpak, A. Vaigu, M. Smid, A. Velasco, A. Pokatilov, I. Fatadin, R. Ferguson, D. Robinson, T. Walbaum, Sven Burger, Mertsi Haapalainen, P. Vahimaa, H. Lukner, W. Pernice, R. Pitwon, A. Deninger, Jacques Morel, Natascia Castagna, O. Peters, H. Husu
Joint research for photonics fibres, waveguides and interconnects
Proc. Europ. Opt. Soc. Ann. Meet. 2016 (EOSAM), p. 25, 2016, ISBN: 978-1-5108-4796-5
BibTeX

Philipp Gutsche, Raquel Mäusle, Sven Burger
Locally Enhanced and Tunable Optical Chirality in Helical Metamaterials
Photonics, Vol.3, p. 60, 2016
BibTeX
DOI
arXiv

Martin Hammerschmidt, Sven Herrmann, Jan Pomplun, Sven Burger, Frank Schmidt
Model order reduction for the time-harmonic Maxwell equation applied to complex nanostructures
Proc. SPIE, Vol.9742, p. 97420M, 2016 (preprint available as ZIB-Report 16-05)
PDF (ZIB-Report)
BibTeX
DOI

Carlo Barth, Jürgen Probst, Sven Herrmann, Martin Hammerschmidt, Christiane Becker
Numerical characterization of symmetry properties for photonic crystals with hexagonal lattice
Proc. SPIE, Vol.9885, p. 988506, 2016
BibTeX
DOI

Klaus Jäger, Martin Hammerschmidt, Grit Köppel, Sven Burger, Christiane Becker
On Accurate Simulations of Thin-Film Solar Cells With a Thick Glass Superstrate
Light, Energy and the Environment 2016, p. PM3B.5, OSA Technical Digest, 2016
BibTeX
DOI

Martin Hammerschmidt
Optical simulation of complex nanostructured solar cells with a reduced basis method
Doctoral thesis, Freie Universität Berlin, Frank Schmidt, Bernd Rech, Ralf Kornhuber (Advisors), 2016
BibTeX
URN

Martin Hammerschmidt, Carlo Barth, Jan Pomplun, Sven Burger, Christiane Becker, Frank Schmidt
Reconstruction of photonic crystal geometries using a reduced basis method for nonlinear outputs
Proc. SPIE, Vol.9756, p. 97561R, 2016 (preprint available as ZIB-Report 16-06)
PDF (ZIB-Report)
BibTeX
DOI
URN

Martin Hammerschmidt, Sven Herrmann, Jan Pomplun, Sven Burger, Frank Schmidt
Reduced basis method for electromagnetic scattering problem: a case study for FinFETs
Optical and Quantum Electronics, Vol.48, p. 250, 2016 (preprint available as ZIB-Report 16-10)
PDF (ZIB-Report)
BibTeX
DOI

Phillip Manley
Simulation of Plasmonic Nanoparticles in Thin Film Solar Cells
Doctoral thesis, Freie Universität Berlin, Martina Schmid, Frank Schmidt (Advisors), 2016
PDF
BibTeX
URN

Klaus Jäger, Carlo Barth, Martin Hammerschmidt, Sven Herrmann, Sven Burger, Frank Schmidt, Christiane Becker
Simulations of sinusoidal nanotextures for coupling light into c-Si thin-film solar cells
Opt. Express, Vol.24, p. A569, 2016
BibTeX
DOI

Klaus Jäger, Grit Köppel, Carlo Barth, Martin Hammerschmidt, Sven Herrmann, Sven Burger, Frank Schmidt, Christiane Becker
Sinusoidal gratings for optimized light management in c-Si thin-film solar cells
Proc. SPIE, Vol.9898, p. 989808, 2016
BibTeX
DOI

Carlo Barth, Sven Burger, Christiane Becker
Symmetry-Dependency of Anticrossing Phenomena in Slab-Type Photonic Crystals
Opt. Express, Vol.24, p. 10931, 2016
BibTeX
DOI

Philipp Gutsche, Raquel Mäusle, Sven Burger
Tailoring local optical chirality in helical metamaterials
2016 10th International Congress on Advanced Electromagnetic Materials in Microwaves and Optics, pp. 73-75, IEEE, 2016
BibTeX
DOI

Lisa Poulikakos, Philipp Gutsche, Kevin McPeak, Sven Burger, Jens Niegemann, Christian Hafner, David Norris
The Optical Chirality Flux as a Useful Far-Field Probe of Chiral Near Fields
ACS Photonics, Vol.3, p. 1619, 2016
BibTeX
arXiv
DOI


2015

Phillip Manley, Sven Burger, Frank Schmidt, Martina Schmid
Design Principles for Plasmonic Nanoparticle Devices
Progress in Nonlinear Nano-Optics, Shuji Sakabe, Christoph Lienau, Rüdiger Grunwald (Eds.), Springer, Nano-Optics and Nanophotonics, pp. 223-247, 2015
BibTeX
arXiv
DOI

Carlo Barth, Klaus Jäger, Sven Burger, Martin Hammerschmidt, Frank Schmidt, Christiane Becker
Design of Photonic Crystals with Near-Surface Field Enhancement
Light, Energy and the Environement 2015, p. JTu5A.9, OSA Technical Digest, 2015
BibTeX
DOI

Vitaly Shchukin, Nikolay Ledentsov, Jr., Jörg-R. Kropp, Gunther Steinle, Nikolay Ledentsov, Jr., Kent D. Choquette, Sven Burger, Frank Schmidt
Engineering of optical modes in vertical-cavity microresonators by aperture placement: applications to single-mode and near-field lasers
Proc. SPIE, p. 93810V, Vol.9381, 2015
BibTeX
DOI

Peter Petrik, Nitish Kumar, Miklos Fried, Bálint Fodor, György Juhász, Silvania Pereira, Sven Burger, H. Paul Urbach
Fourier ellipsometry – an ellipsometric approach to Fourier scatterometry
J. Eur. Opt. Soc.-Rapid, Vol.10, p. 15002, 2015
BibTeX
DOI

Nikolay Ledentsov, Jr., Jörg-R. Kropp, Vitaly Shchukin, Gunther Steinle, Nikolay Ledentsov, Jr., Jarek P. Turkiewicz, Bo Wu, Qiu Shaofeng, Yanan Ma, Feng Zhiyong, Sven Burger, Frank Schmidt, Christoph Caspar, Ronald Freund, Kent D. Choquette
High-speed modulation, wavelength, and mode control in vertical-cavity surface-emitting lasers
Proc. SPIE, p. 93810F, Vol.9381, 2015
BibTeX
DOI

Sven Burger, Philipp Gutsche, Martin Hammerschmidt, Sven Herrmann, Jan Pomplun, Frank Schmidt, Benjamin Wohlfeil, Lin Zschiedrich
Hp-finite-elements for simulating electromagnetic fields in optical devices with rough textures
Proc. SPIE, p. 96300S, Vol.9630, 2015
BibTeX
DOI
arXiv

Martin Hammerschmidt, Sven Herrmann, Jan Pomplun, Lin Zschiedrich, Sven Burger, Frank Schmidt
Reduced basis method for Maxwell's equations with resonance phenomena
ZIB-Report 15-37 (Proc. SPIE 9630, 96300R (2015))
PDF
BibTeX
URN
DOI

Emil Agcos, Bernd Bodermann, Sven Burger, Gaoliang Dai, Johannes Endres, Poul-Erik Hansen, Lars Nielson, Morten Madsen, Sebastian Heidenreich, Michael Krumrey, Bernd Loechel, Jürgen Probst, Frank Scholze, Victor Soltwisch, Matthias Wurm
Scatterometry reference standards to improve tool matching and traceability in lithographical nanomanufacturing
Proc. SPIE, p. 955610, Vol.9556, 2015
BibTeX
DOI

Klaus Jäger, Carlo Barth, Martin Hammerschmidt, Sven Herrmann, Sven Burger, Frank Schmidt, Christiane Becker
Sinusoidal Nanotextures for Coupling Light into c-Si Thin-Film Solar Cells
Light, Energy and the Environement 2015, p. PTu4B.3, OSA Technical Digest, 2015
BibTeX
DOI

Patrick Gelß, Sebastian Matera, Christof Schütte
Solving the master equation without kinetic Monte Carlo: tensor train approximations for a CO oxidation model
ZIB-Report 15-41
PDF
BibTeX
URN

Kevin McPeak, Christian D. van Engers, Sarah Bianchi, Aurelio Rossinelli, Lisa Poulikakos, Laetitia Bernard, Sven Herrmann, David K. Kim, Sven Burger, Mark Blome, Sriharsha V. Jayanti, David Norris
Ultraviolet Plasmonic Chirality from Colloidal Aluminum Nanoparticles Exhibiting Charge-Selective Protein Detection
Adv. Mater., Vol.27, p. 6244, 2015
BibTeX
DOI


2014

Christiane Becker, Philippe Wyss, David Eisenhauer, Jürgen Probst, Veit Preidel, Martin Hammerschmidt, Sven Burger
5 x 5 cm2 silicon photonic crystal slabs on glass and plastic foil exhibiting broadband absorption and high-intensity near-fields
Sci. Rep., Vol.4, p. 5886, 2014
BibTeX
DOI

Kevin McPeak, Christian D. van Engers, Mark Blome, Jong Hyuk Park, Sven Burger, Miguel A. Gosalvez, Ava Faridi, Yasmina Ries, Ayaskanta Sahu, David Norris
Complex Chiral Colloids and Surfaces via High-Index Off-Cut Silicon
Nano Lett., 14(5), pp. 2934-2940, 2014
BibTeX
DOI

Samuel Wiesendanger, Thomas Bischoff, Vladislav Jovanov, Dietmar Knipp, Sven Burger, Falk Lederer, Carsten Rockstuhl
Effects of film growth modes on light trapping in silicon thin film solar cells
Appl. Phys. Lett., 104(23), p. 231103, 2014
BibTeX
DOI

Christoph Menzel, Erik Hebestreit, Rasoul Alaee, Mohammad Albooyeh, Stefan Mühlig, Sven Burger, Carsten Rockstuhl, Constantin Simovski, Sergei Tretyakov, Falk Lederer, Thomas Pertsch
Extreme Coupling: a route towards local magnetic metamaterials
Phys. Rev. B, Vol.89, p. 155125, 2014
BibTeX
DOI

Samuel Wiesendanger, Thomas Bischoff, Vladislav Jovanov, Dietmar Knipp, Sven Burger, Falk Lederer, Carsten Rockstuhl
Numerical investigations on the effects of film growth modes on light trapping in silicon thin film solar cells
Light, Energy and the Environment, p. PF4C.4, 2014
BibTeX
DOI

Johannes Kaschke, Mark Blome, Sven Burger, Martin Wegener
Tapered N-helical metamaterials with three-fold rotational symmetry as improved circular polarizers
Opt. Expr., 22(17), pp. 19936-19946, 2014
BibTeX
DOI

Christoph Menzel, Erik Hebestreit, Stefan Mühlig, Carsten Rockstuhl, Sven Burger, Falk Lederer, Thomas Pertsch
The spectral shift between near- and far-field resonances of optical nano-antennas
Opt. Expr., 22(8), pp. 9971-9982, 2014
BibTeX
DOI