Sustainable Infrastructures for Archiving and Publishing High-Performance Optimization Software
The complexity of sustainably developing research software is still largely
underrated and the question how to guarantee visibility and fair attribution of these efforts in the
scholarly environment remains open. However, with the continuing shift towards data-centric
science, the software utilized to produce the scientific output itself should be regarded as
scientific output as well. In many cases it is indispensable in order to reproduce the research
results and should therefore be made openly available.
In the realm of data a shift towards reusable and openly shared data sets is already underway.
Over the last years there is a general understanding evolving that not only a publication
should get scientific credit but documented and available datasets as well. A paradigm shift of
that dimension for research software is just beginning. Work in this direction is for instance done
in the FORCE11 Software Citation Working Group. Their Software Citation Principle states
that "Software citations should facilitate giving scholarly credit and normative, legal attribution to
all contributors to the software, recognizing that a single style or mechanism of attribution may
not be applicable to all software."
The project aims at lowering the organisational and technical barriers for making
research software available and foster the reuse of it. Software is generally relying on a stack of
additional software like operating systems and libraries to be functional. To just provide a link to
a specific piece of software may render it useless for future use as required dependencies are
lost over time. To be most comprehensive, additionally metadata should be gathered as early in
the development process as possible. Therefore we intend to harvest the accompanying
metadata directly from the developing process at the time of the build. Through GitLab there is a
lot of necessary metadata available, such as changelogs, dependencies and contributors. This
metadata can be mapped to an agreed-upon metadata schema and transferred to a deployment
infrastructure. To reach a high degree of reliability this process should be automated. At the
core of the project is the exemplary research software Ubiquity Generator (UG) developed at
Zuse Institute Berlin. The envisioned infrastructure is comprised of widely used open source
components. The workflows developed in the course of the project
should be easily adaptable to different institutions and research facilities.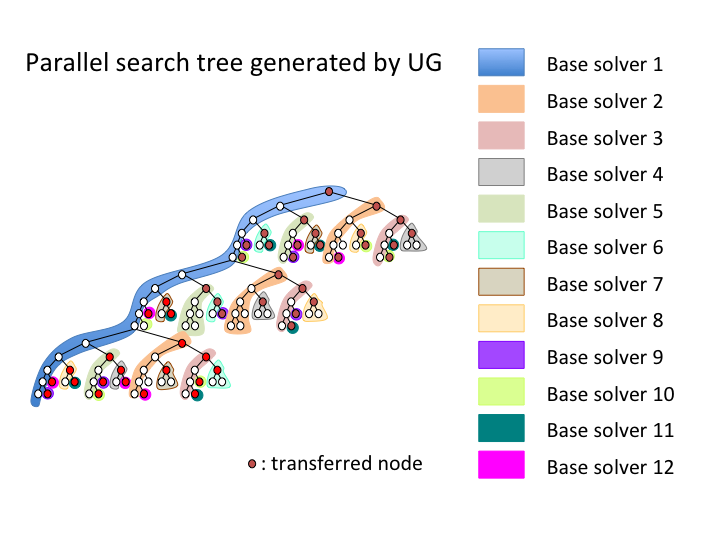 Publications
2023
2022
2021
2020
2019
2023

Junko Hosoda, Stephen J. Maher, Yuji Shinano, Jonas Christoffer Villumsen
A parallel branch-and-bound heuristic for the integrated long-haul and local vehicle routing problem on an adaptive transportation network
ZIB-Report 23-02
PDF
BibTeX
URN

Tim Hasler, Wolfgang Peters-Kottig, Franziska Schlösser
Software Management Plan developed in HPO-Navi
2023
PDF
BibTeX
DOI


2022

Koichi Fujii, Sunyoung Kim, Masakazu Kojima, Hans D. Mittelmann, Yuji Shinano
The Largest Unsolved QAP Instance Tai256c Can Be Converted into A 256-dimensional Simple BQOP with A Single Cardinality Constraint
ZIB-Report 22-18
PDF
BibTeX
URN
DOI

Koichi Fujii, Naoki Ito, Sunyoung Kim, Masakazu Kojima, Yuji Shinano, Kim-Chuan Toh
大規模二次割当問題への挑戦
ZIB-Report 22-11
PDF
BibTeX
URN


2021

Ramin Khorsandi
Gitram 1.0.0
2021
BibTeX
DOI

Nariaki Tateiwa, Yuji Shinano, Masaya Yasuda, Shizuo Kaji, Keiichiro Yamamura, Katsuki Fujisawa
Massively parallel sharing lattice basis reduction
ZIB-Report 21-38 (under review)
PDF
BibTeX
URN

Koichi Fujii, Naoki Ito, Sunyoung Kim, Masakazu Kojima, Yuji Shinano, Kim-Chuan Toh
Solving Challenging Large Scale QAPs
ZIB-Report 21-02
PDF
BibTeX
URN
DOI

Ksenia Bestuzheva, Mathieu Besançon, Wei-Kun Chen, Antonia Chmiela, Tim Donkiewicz, Jasper van Doornmalen, Leon Eifler, Oliver Gaul, Gerald Gamrath, Ambros Gleixner, Leona Gottwald, Christoph Graczyk, Katrin Halbig, Alexander Hoen, Christopher Hojny, Rolf van der Hulst, Thorsten Koch, Marco Lübbecke, Stephen J. Maher, Frederic Matter, Erik Mühmer, Benjamin Müller, Marc E. Pfetsch, Daniel Rehfeldt, Steffan Schlein, Franziska Schlösser, Felipe Serrano, Yuji Shinano, Boro Sofranac, Mark Turner, Stefan Vigerske, Fabian Wegscheider, Philipp Wellner, Dieter Weninger, Jakob Witzig
The SCIP Optimization Suite 8.0
ZIB-Report 21-41
PDF
BibTeX
URN

Yuji Shinano
UG - Ubiquity Generator Framework v1.0.0beta
2021
BibTeX
DOI


2020

H. Anzt, F. Bach, S. Druskat, F. Löffler, A. Loewe, B. Y. Renard, G. Seemann, A. Struck, E. Achhammer, F. Appell, M. Bader, L. Brusch, C. Busse, G. Chourdakis, P. W. Dabrowski, P. Ebert, B. Flemisch, S. Friedl, B. Fritzsch, M. D. Funk, V. Gast, F. Goth, J.-N. Grad, Sibylle Hermann, F. Hohmann, S. Janosch, D. Kutra, J. Linxweiler, T. Muth, Wolfgang Peters-Kottig, F. Rack, F. H. C. Raters, S. Rave, G. Reina, M. Reißig, T. Ropinski, J. Schaarschmidt, H. Seibold, J. P. Thiele, B. Uekermann, S. Unger, R. Weeber
An environment for sustainable research software in Germany and beyond: current state, open challenges, and call for action [version 1; peer review: 1 approved, 1 approved with reservations]
F1000Research, 2020
BibTeX
DOI

Timo Berthold, Jakob Witzig
Conflict Analysis for MINLP
ZIB-Report 20-20
PDF
BibTeX
URN

Jakob Witzig, Timo Berthold
Conflict-Free Learning for Mixed Integer Programming
Integration of AI and OR Techniques in Constraint Programming. CPAIOR 2020, pp. 521-530, LNCS, 2020 (preprint available as ZIB-Report 19-59)
PDF (ZIB-Report)
BibTeX
DOI

Yuji Shinano
UG - Ubiquity Generator Framework v0.9.1
2020
BibTeX
DOI


2019

Elias Oltmanns, Tim Hasler, Wolfgang Peters-Kottig, Heinz-Günter Kuper
Different Preservation Levels: The Case of Scholarly Digital Editions
Data Science Journal, 18(1(51)), 2019
BibTeX
DOI