The TNTN2020 comprises two workshops, the OWTNM 2020 - XXVIII International Workshop on Optical Wave & Waveguide Theory and Numerical Modelling and the 13th Annual Meeting Photonic Devices.
Agnieszka Miedlar
University of Kansas
Rational Approximation Methods for Large-Scale Nonlinear Eigenvalue Problems
Arno Rauschenbeutel
Humboldt Universität zu Berlin
Nonreciprocal Quantum Optical Devices Based on Chiral Interaction of Confined Light with Spin-Polarized Atoms
Evgeni Bezus
Samara University
Coupled-wave analysis of bound states in the continuum in integrated nanophotonic elements for semi-guided waves
Francesco Intravaia
Humboldt Universität zu Berlin
Investigating electromagnetic fluctuation-induced interactions
Giulia Tagliabue
École Polytechnique Fédérale de Lausanne
Controlling Light-Energy Conversion at the Nanoscale: A Synergistic Experimental and Theoretical Approach
Javier García de Abajo
ICFO-Institut de Ciencies Fotoniques, Barcelona
Quantum Aspects of Electron-Light-Plasmon Interactions at the Atomic Scale
Kevin Vynck
Laboratoire Photonique, Numérique et Nanosciences, Bordeaux
Efficient numerical methods for the analysis and design of complex nanoresonators and disordered nanostructures
Laura Fabris
Rutgers University, New Jersey
A Holistic Computational-Experimental Approach toward Tridimensional Gold Nanostar Antennas
Martijn Wubs
Technical University of Denmark, Lyngby
Quantum Plasmons in Graphene Nanoribbons: New Insights from Continuum and Atomistic Theories
Remi Carminati
Institut Langevin, Paris
Cross density of states and mode connectivity in nanophotonics
Rubén Esteban
Donostia International Physics Center, Donostia-San Sebastián
Focusing light to the molecular scale
Sergei Tretyakov
Aalto University
Modular analysis of arbitrary dipolar scatterers: the materiatronics concept
Tobias Heindel
Technische Universität Berlin
Engineered Solid‐State Quantum‐Light Sources for Quantum Communication
Uwe Morgner
Leibniz Universität Hannover
The virtual lab: Modelling femtosecond nonlinear light-matter interaction
---
Program and Book of Abstracts
Program (11.02.2020) and book of abstracts: Program_BookofAbstracts.pdf
---
Important Dates
Paper submission deadline: 15 December 2019
Decision about acceptance: 30 December 2019
Registration deadline: 24 January 2020
Workshop: 12-14 February 2020
---
Organizers
TNTN2020 Organizing Committee:
Philippe Lalanne (Laboratoire Photonique, Numérique et Nanosciences, Bordeaux, France), Christoph Wächter (Fraunhofer IOF, Jena, Germany), Felix Binkowski (Zuse Institute Berlin, Germany), Sven Burger (Zuse Institute Berlin, Germany)
OWTNM Technical Commitee:
Arti Agrawal (City University of London, United Kingdom), Trevor Benson (University of Nottingham, United Kingdom), Jiří Čtyroký (Institute of Photonics and Electronics, Czech Academy of Sciences, Czech Republic), Anne-Laure Fehrembach (Institut Fresnel, Marseille, France), Manfred Hammer (Paderborn University, Germany), Stefan Helfert (FernUniversität Hagen, Germany), Bastiaan de Hon (Eindhoven University of Technology, The Netherlands), Andrei Lavrinenko (Technical University of Denmark, Lyngby, Denmark), Marian Marciniak (National Institute of Telecommunications, Warsaw, Poland), Andrea Melloni (Politecnico di Milano, Italy), Íñigo Molina Fernández (University of Málaga, Spain), Alejandro Ortega Moñux (University of Málaga, Spain), Ivan Richter (Czech Technical University, Prague, Czech Republic), Dirk Schulz (TU Dortmund University, Germany), Christoph Wächter (Fraunhofer IOF, Jena, Germany)
---
Submission
Topics of the workshop include nanophotonic devices and materials. We aim at an open discussion between experiment, modeling and theory, numerical methods and tools. One-page papers should be submitted electronically in pdf-format. When preparing the manuscript, we ask you to follow the guidelines given in these templates:
template_papers_TNTN2020.zip
Please email your paper to
tntn2020@zib.de.
Accepted papers will be scheduled for oral or poster presentation. Please indicate clearly in your message the preferred type of presentation. Accepted papers will be included in the electronic book of papers. This version will be freely available through this website.
---
Registration
There is no registration fee. The number of participants is limited, early registrations are preferred. Please let us know if you want to present a paper or if you want to attend the workshop as an audience member without presenting your work.
Please email your registration (full name; institution; address; title of paper, when appropriate) to tntn2020@zib.de.
---
Venue & Travel
TNTN2020 will be held at Zuse Institute Berlin.
Schedule: Wednesday 9:00 a.m. - Friday 4:00 p.m.
We recommend booking your hotel as soon as possible.
Zuse Institute Berlin
Takustraße 7
14195 Berlin
Germany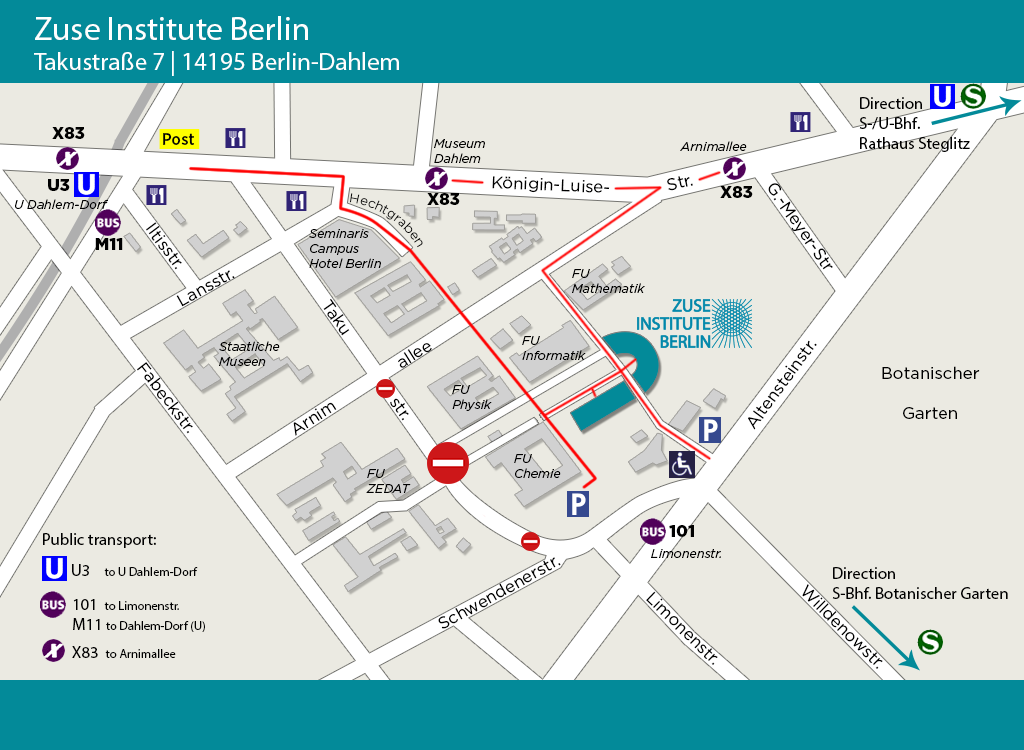 ---
Supported by